are you prepared to bug out?
My name is Dan F. Sullivan, editor-in-chief of SurvivalSullivan.com...
...and I don't care if you have a 5-year stockpile, 1,000 gallons of water or enough guns for a small army... You cannot fight floods and hurricanes with bullets, and even the strongest house can be destroyed in a heartbeat.
What you many not realize is that, when SHTF, you've got only 2 options: you either bug in or bug out. Make the wrong one and all those months and years you spent prepping your house and making a stockpile could be gone in a heartbeat.
Yes, hunkering down is more likely, but it's also easier to prep for. That's why people do it. It's comfortable. You buy gear, fortify your home, start a stockpile… It's "fun", right?
Well, the fun stops when disaster strikes and you realize you have to GO.
I don't care how old you are, whether or not you can drive, I don't even care if you're in a wheelchair… You can and should prepare for an evacuation. Survival isn't a hobby, it's primal instinct, why would anyone refuse to live?
To really cover every scenario, you need to be prepared to bug out for days, weeks, months or even forever. Expect to never come home, expect to live for months on end in the wilderness until you find a more permanent place to stay.
In the above video, I'm going to completely shatter the 3 biggest myths about bugging out, just to prove to you that many of the things you read are GARBAGE… and how applying the wrong information can kill you.
I also want to show you how to prepare for an evacuation in one afternoon, whether you live alone or with a large family, whether you're on a farm or in a big city, even if you're old, crippled with arthritis, and even if you're in a wheelchair.
I noticed there is no course out there that goes into much depth about evacuations and planning, so I decided to do it. Not alone, though. I had help from my experts who are better preppers than me. I wanted to make the best crash course on bugging out anyone ever made… something that everyone, from beginner to advanced would swear by it.../p>
Me and my writers worked our rear ends off to provide you with the best of the best survival information you will ever find, all wrapped up into a single eBook titled How to Bug Out Forever, which will show you how to prep to evacuate in step-by-step detail.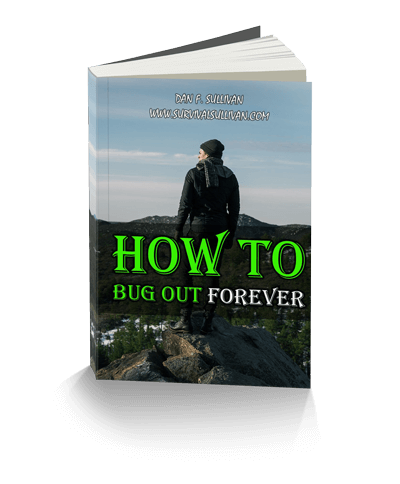 This product is digital. The image is for information purposes.
"How to bug out forever",
by dan f. sullivan
This is the only bugging out course filled to the brim with actionable advice that you won't find anywhere else.
We'll get you ready to survive weeks, months or even years away from home WITHOUT BREAKING THE BANK. Let me prove it to you by giving you just a taste of what's inside...
● How to set up stellar bug out bags, everyday carry kits and get home bags. I'm using a special technique that organizes everything into easy-to-access modules. Food, water, shelter, fire, hygiene, clothes, flashlights – nothing is left out and the best part is, any item can be used for "bug in" scenarios as well...
● How to make a bugging out plan that actually works. I don't care if you're prepping alone, if you're a single mom, or if you have a large family... everyone needs a plan, including your pet, a plan that will NOT fail you when you need it.
● How to avoid roadblocks and the hoards of people flocking when SHTF. We made a full list of things that can go wrong when you're bugging out and gave common sense advice to each.
● We're taking things one step further and tell you how to set up an INCH (I'm Never Coming Home) Bag that will allow you to live in the wilderness forever. You'll be the best prepper in your town, PERIOD.
● Our firearms experts will reveal what the best concealed carry guns are. You need something that fits inside your BOB, is easy to carry and uses ammo that is abundant. Pick any handgun from our top 5.
● How to prepare your car for an evacuation. Whether you want to buy a new one or if you have to do with your current one, I'll show you not just what to fill it with supplies, but how to make it unstoppable, even in front of bullets.
● A step-by-step walkthrough of what to do when it hits. Plus, the 3 things NEVER to do in a bug out.
● How to find land for your bug out location: cheap, full of natural resources that will allow you to live without outside help. Plus, how to protect it from looters when you're not there.
Really, this is just a taste of what you're going to get in this fluff-free e-course. You now have everything you could ever need to bug out, just click the button below to order it and start reading it within minutes.
Now, since I wanted to make this more than just an eBook, I also decided to include these bonuses that are 100% free if you order today...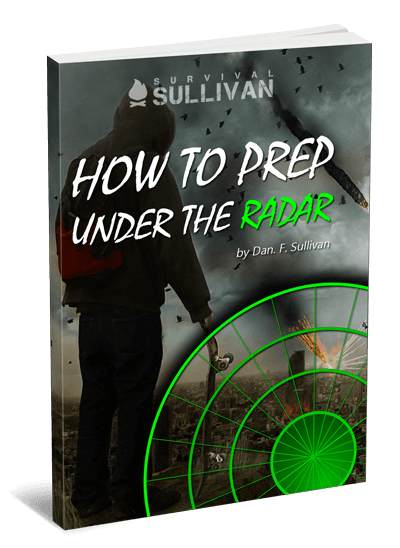 This product is digital. The image is for information purposes.
Bonus #1 is called How to Prep Under the Radar.
Everything must be done in absolute secrecy. None of your neighbors can ever know what you're up to (unless they're preppers too), so I'm going to give you a list of things you can do to that won't raise any eyebrows.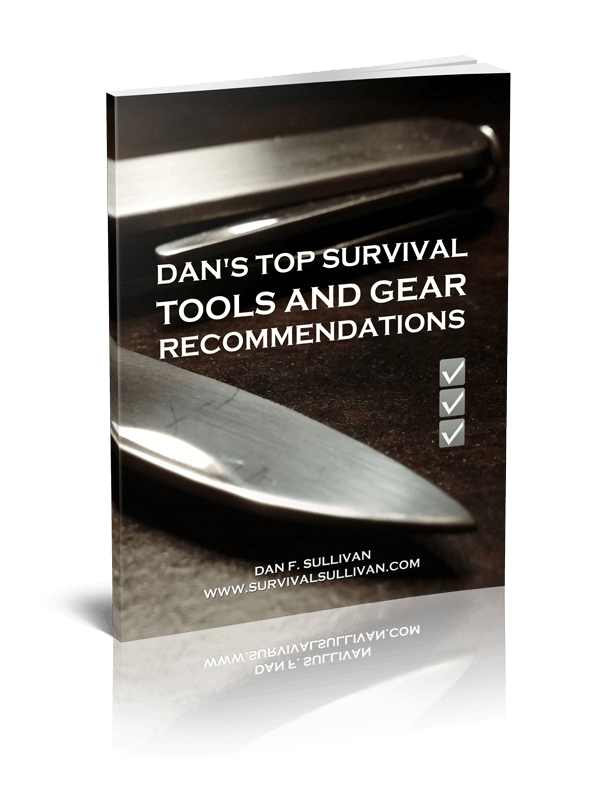 This product is digital. The image is for information purposes.
Bonus #2 is titled Dan's Top Recommendations and will tell you exactly what some of the best products that you can find online.
No fancy talk, no B.S. I'll just give you lists of items that either me or others preppers are stockpiling.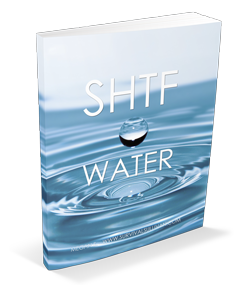 This product is digital. The image is for information purposes.
Bonus #3 simply titled SHTF Water.
Water is going to be the biggest bugging out problem, because there's only so much you can take with you. Water is too heavy and will slow you down considerably… But since the human body can only survive for about 3 days without it, this crucial bonus will teach you two things:
#1, how to find water in any scenario, whether you're stuck inside a city or the woods..
#2, how to purify that water into the crystal-clear, delicious liquid of life that will not only quench your thirst, but will also give you back your energy to continue to bug out.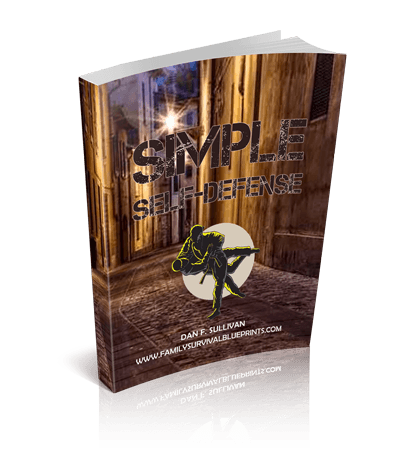 This product is digital. The image is for information purposes.
Bonus #4 is called Simple Self-Defense, and was written by Heath Brower, an ex-combatives instructor in the U.S. Army, and a martial arts expert in Brazilian Jiu-Jitsu, Krav Maga and Aikido who's been doing this since he was 7 years old.
He'll teach you everything you need to defend yourself in an emergency: situational awareness, attack prevention, basic self-defense moves you can practice in your living room and what body parts to hit to cause the most damage.
He'll also give you a kick-ass list of everyday items that double as "part-time" survival weapons. This ebook is as close to joining a self-defense class as it gets.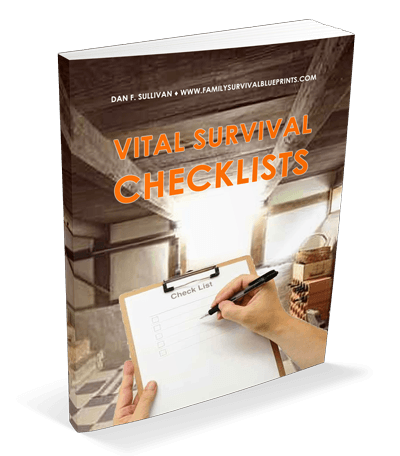 This product is digital. The image is for information purposes.
Last but not least, my 5th bonus a list of survival checklists that will ensure you don't miss anything while you're prepping.
Having blind spots in your survival plans could mean losing your stockpile or your life, so don't let that happen by printing and marking each item in these lists, one by one, as you purchase them.
The Bug Out Forever course and the 5 bonuses have literally anything you need to bug out.
You're in for a great and easy read, yet you're probably wondering how much it costs. Putting a price on the efforts and the experience of me and my writers was not an easy task. If you're wondering why most survival sites (except mine) don't publish daily quality content, it's because quality content is far from cheap.
though I feel the course is worth at least a couple hundred dollars, I can't ask for over $100 for something that will read by thousands of people over the years… At the same time, I can't put the same measly price tag that those booklets on Amazon have.
So I decided to price it in a way that's more than fair, below the $50 mark,
at a measly $39...
The good news is, though, that you get an iron-clad 60-day "no questions asked" guarantee. If, at any time within 2 months you feel that this isn't for you, simply contact me via email and I'll personally initiate a full refund.